Way back when I was single, I took a vacation trip to Spain. My plan was simple: I rented a car in Madrid, and drove until I found a place I wanted to stay. Then I tried to persuade the inn owner to rent a room to a single woman, found a restaurant that would serve a single woman, and went back to the inn to bed.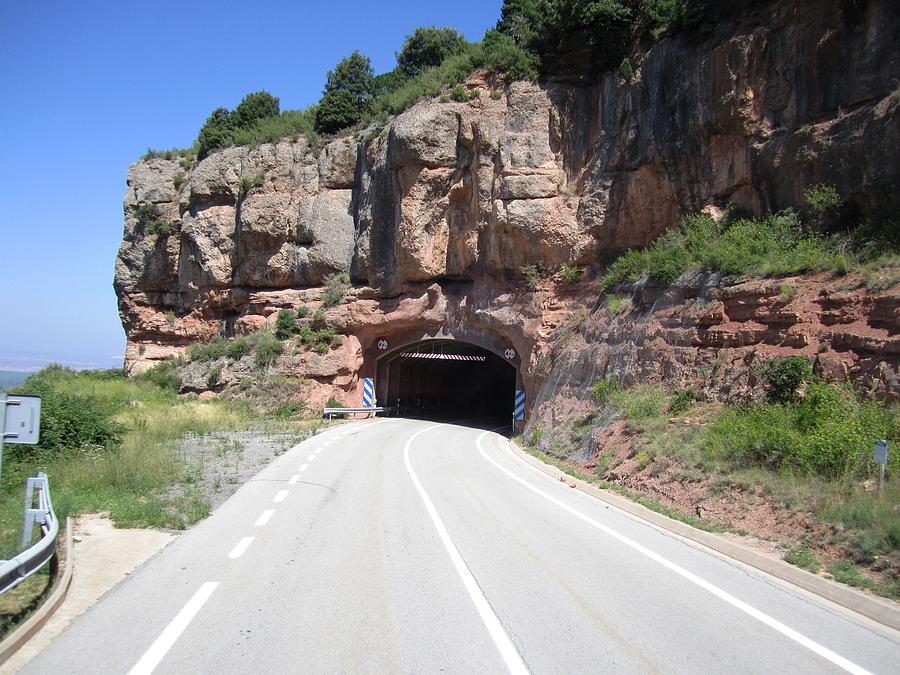 As I drove south I went through a mountain range. The road was a two-lane highway, and it was only after I had entered a long tunnel that I realized two important things. First, the tunnel was unlit. Second, I didn't know where the headlight switch was on my rental car. Far, far ahead I could see the end of the tunnel.
The question was whether or not I could get there before crashing. I couldn't stop, because a car might come up on me from behind. I couldn't see where the wall was, except by occasionally tapping the brakes to check by dim brake-light.
It was the most terrifying quarter mile I have ever traveled. And when I finally emerged into daylight, the road lacked a shoulder onto which I could pull over so I could heave my guts out. I had no choice but to keep going.
* * * *
I have been feeling glum the past couple of days. The road ahead of me appears very long and dark. It is hard, after having traveled a rough path for a decade with Big Guy, and a long stretch with other woes, to contemplate handling yet more difficulty. The one reason I know I can do it is that I can't afford
not
to. Like driving in that Spanish tunnel, I don't have any choice but to keep going.
The I-don't-want-to's of life are long and numerous. They easily morph into I-can'ts. But as soon as you say 'I can't', chances are that you're lying to yourself. This is one of the huge benefits of big, big problems:
it doesn't matter if you don't want to.
You
have
to
.
And then you learn that you can.
* * * *
I saw a friend yesterday I haven't seen in a while. She asked how I'm doing, and I replied, "A lot of my prayers these days start with, '
Really
, God? I mean...
really?
'" We laughed. Sort of. She has been through a lot this year, too; I spent a couple of weeks this spring coaching her through her 15yo's hospitalization for depression. It was something helpful I could do. Being helpful gives me joy and a sense of purpose.
* * * *
I am a person of faith. I believe that everything happens for a purpose, yet I don't believe that purpose always has to do
with me
. The Bible verse that people like to quote in hard time, "For I know the plans I have for you,' declares the LORD, 'plans to prosper you and not to harm you, plans to give you hope and a future'" (Jeremiah 29:11) comes smack in the middle of what God said to a nation that was being exiled to Babylon for 70 years. Yes, exiled for a lifetime. And that promise was made to an entire nation, not to an individual.
Lemme tell ya, bad stuff happened to those exiles. They endured misery until they died. The promise was true -- it just didn't happen to come true in their lifetime. There are times when the greater good subsumes the individual good. There are times we're called on to be the ones who suffer for no currently-visible reason.
It's taken me a while to be okay with that. Hope doesn't necessarily have to be the kind of hope we 21st-century Americans are accustomed to having. We think in terms of personal outcomes and personal goals and personal happiness. If you ever get to the place where you have to let go of all that, it's actually kind of a relief. You can start thinking about having hope in God, rather than hope in what God will do for you. And you start to understand -- just a little bit -- that what's going on here on your section of the face of the earth this week or month or year is neither the beginning nor end of the story.