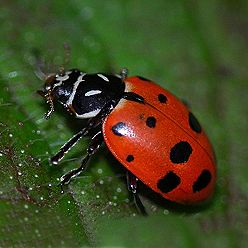 I'm up early this morning, stapling together paper plates. I'm slated to teach three classes about ladybugs in the park this weekend, and the closing craft is making paper plate puppets.
Before I leave for the classes I need to transfer a couple hundred ladybugs (who are sleeping in my fridge) into a separate container. Last time I did this I wasn't fast enough, the ladybugs woke up, and my family complained about insects crawling out of the toaster. Life is full of hazards.
Cool factoid of the day: ladybugs have yellow blood. When they play dead to fool predators, they can ooze some of the blood down their legs to make their act seem more realistic.