Today was my birthday. It started auspiciously: Andrew announced, "I caught you a mouse!"
This was good. We have been battling mice for six months, and though the battle has been in our favor for a while, the sightings lately have begun to exceed the captures.
Then my husband gave me a gift certificate for a massage. This is unusual on so many levels I cannot begin to enumerate them.
My mom sent two pairs of jeans, and not only were they in the right size, they fit and are comfortable. I can now consign my forlorn, ripped pair to the back of a drawer, for dirty jobs. It is a good thing to be able to wear clothes that are not embarrassing. I can be thankful for that.
My sister called. A gazillion people said "Happy Birthday" on Facebook.
Dancer cooked a delicious Spanish veal stew (we haven't had veal in a decade) and made a French vanilla cinnamon creme for dessert.
Big Guy did the dishes.
And then I realized the most amazing thing had happened. My husband replaced the screws on the toilet lid, so that it doesn't fall off when you sit down.
I feel utterly pampered. I mean, a working toilet seat! A real meal that *I* didn't cook! A clean kitchen!
We listened to the new
Sandra Boynton CD
after dinner, and laughed and laughed. I could never have been half the parent I am without
Philadelphia Chickens
and
Rhinoceros Tap
. (Really -- you need these songs!)
Life is good today. Part of what makes life good is appreciating today, instead of assuming the goodness of today will extrapolate to the future.
And to add to that, my alma mater has been in the news lately because of a statue, which some of the students find offensive.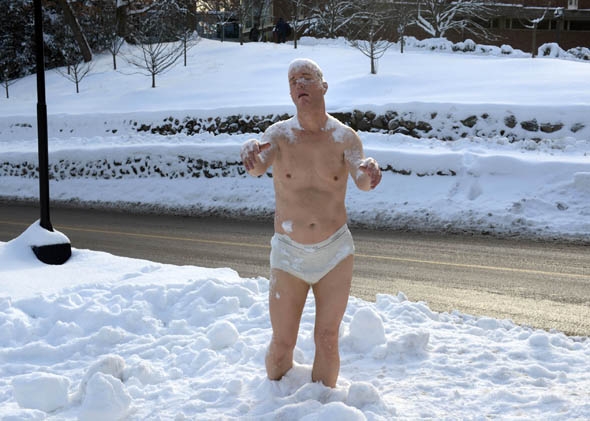 I was vastly relieved to learn that the opportunity to dress this poor man in new outfits daily has not gone untapped. I find it highly amusing that the campus police are assigned the task of undressing him to his tighty whiteys every night. It is good to know that students today still have a sense of whimsy.